Las Vegas, NV 89119
Conveniently located near the corner of E Sunset Rd and Eastern Ave, LV Smog Checkers will perform the required smog check on your vehicle and have you on your way in no time.
Monday - Friday 8am-5pm, Sat 8am-2pm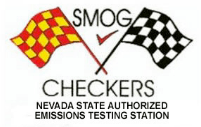 Just 2 Easy Steps To Get Your Renewal!

Step 1: Smog Check
Visit LV Smog Checkers. Total cost only $19.99 (46% off DMV price!).
Step 2: Renew Registration